Free Estimates
One-Year Parts and Labor Warranty
(208) 510-5657
Water Heater Installations, Repairs and Servicing
Pristine Plumbing and Construction offers the right solutions to all your water heater needs. Our fully licensed, bonded and insured family-oriented business provides honest advice and cost-effective solutions for all your plumbing needs. When the water heater is on the fritz, we can help with fast, reliable water heater repair, replacement, and service.
If your water heater isn't working or doesn't provide enough hot water, call us to schedule your water heater repair or replacement. We have over a dozen years of experience working on all types of water heaters and installing top-of-the-line Rheem equipment.

"Kyle at Pristine Plumbing did a fantastic job on my new 50-gallon water heater. His price was very competitive. He is very honest, punctual and knowledgeable. I will refer him to all of my friends and family."
– Jeff B via Google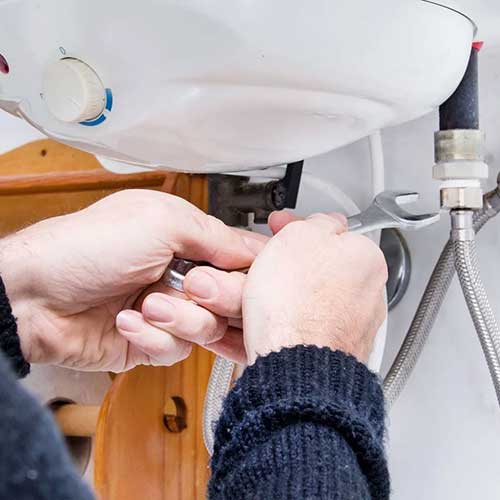 Servicing Both Tank and Tankless Water Heaters
When homeowners have a problem with their water heater, the first question they ask us is whether it should be repaired or replaced. The best solution depends on the problem with the water heater and its age. A tank water heater usually lasts about 10 years and a tankless water heater up to 20 years. So if your water heater is at the end of its expected life, replacement is recommended.
Other reasons to replace a water heater include:
Leaks – A leak from a pipe or other connection to the water heater can be repaired. However, the water heater will need to be replaced when the tank is leaking.
Noise – If you notice loud rumbling or banging noises from an older water heater, it can indicate sediment buildup inside the tank. Sediment buildup can wear down the tank and cause failure.
Rust-colored hot water – Seeing rust in the hot water can be a sign that the water heater is corroding and needs to be replaced.
Tank size – Are you constantly running out of hot water? The tank may not be large enough to supply enough hot water to meet your family's demand. Upgrading to a larger tank or a tankless water heater is the best way to solve this problem.
Lack of maintenance – A water heater that has not received regular maintenance, such as flushing the tank, won't last as long.
Our licensed plumbers can inspect your water heater and offer honest, real solutions. If it is time for an upgrade, the options are a tank or tankless water heater. A standard tank water heater is less expensive to install. Tanks are available in a variety of sizes to accommodate the hot water needs of homes of different sizes. Fill out our online form to schedule an appointment with Pristine Plumbing and Construction.
What Are the Benefits of a Tankless Water Heater?
A tankless water heater provides:
A constant supply of hot water
A lifespan that is twice as long as tank water heaters
Better energy efficiency
Space-saving design that is great when space is limited
The higher installation cost is the main downside of a tankless model. Whether you want a tank or tankless water heater, it is important to select the right size to accommodate your hot water requirements. Our water heater installers can evaluate your needs and recommend options that will work for your home.
When your water heater isn't working or it's time for an upgrade, we provide repair and replacement services. If you are ready for a new model, our plumbers can help you explore the options and provide a free estimate for your new water heater installation.
Call (208) 510-5657 to get started. All our work is backed by a one-year parts and labor warranty.