Free Estimates
One-Year Parts and Labor Warranty
(208) 510-5657
Licensed Plumbing and Remodeling Specialists
Pristine Plumbing and Construction provides plumbing services for remodels in Nampa, ID and surrounding areas. When you want to remodel your kitchen, bathroom or have another remodeling project in mind, hiring a company with both construction and plumbing expertise allows you to work with one contractor for your remodeling project. We are fully licensed, bonded and insured, with more than 12 years of plumbing experience to deliver superior service for your bathroom or kitchen remodel.
If you are planning a kitchen or bathroom remodel, call today to learn what we can do for you. All our remodeling services are competitively priced and we will price match any local competitor.

"Pristine Plumbing is the best. Kyle came out the day we called, did a great job at a fair price and returned our kitchen to us. We will be sure to hire him again should the need arise. We recommend him highly."
– Don G via Google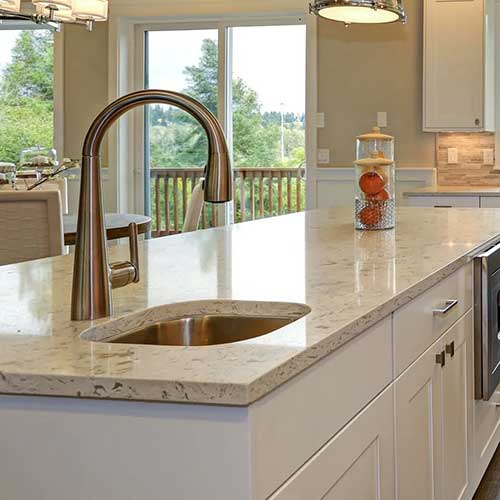 Create the Home of Your Dreams
Remodeling projects allow homeowners to make their homes better suited to the changing needs of their families without the hassle of moving. The options for remodeling your home are nearly endless. Whether you are remodeling the basement or adding a bathroom, kitchen or bedroom, your remodel can provide many significant benefits, now and in the future.
Kitchens and bathrooms are among the most popular remodeling projects for homeowners. This makes sense because these are the most heavily used rooms by every member of the family. If you want to increase your property value, remodeling the kitchen and bathroom gives you the best return on your investment. When it comes time to sell your home, an updated kitchen or bathroom is attractive to potential buyers.
Kitchen and bathroom remodels offer benefits for:
Aesthetics – Older homes often have fixtures, appliances and colors that make the house look dated. If you have an older home, a remodel enables you to bring the décor up to date and improve the appearance of your home.
Organization – Lack of storage space is a common problem in many homes and this can make the house disorganized. A remodel allows you to improve organization by adding storage.
Safety – Often, homeowners embark on a remodeling project for safety reasons. Outdated bathrooms and kitchens can pose a safety risk. For example, loose tiles, broken plumbing fixtures and faulty appliances are hazards that can be solved during your remodel.
Satisfaction – If an old, outdated kitchen or bathroom is making you unhappy with your home, a remodel may be exactly what you need to fall in love with your house again.
Energy efficiency – Upgrading plumbing fixtures and appliances during a remodel helps to reduce energy and water consumption. This can help reduce your monthly bills and benefits the environment.
Property value – A brand new kitchen, bathroom or other remodeling project can increase your property value.
Remodeling your house is an exciting time that can also be stressful and overwhelming. Working with an experienced and qualified remodeling company can make the entire process go smoother so contact family-owned Pristine Plumbing and Construction today!
Start Planning Your Kitchen or Bathroom Remodel
At Pristine Plumbing and Construction, we offer expert service and a full range of options for kitchen and bathroom remodels. We can listen to your concerns, make recommendations, answer your questions and guide you through the process of planning your remodel including providing a free estimate. Our remodel team treats your home like our own and provides clean, neat and highly professional service at every stage of the job. When you're ready to start planning your bathroom or kitchen remodel,
Call (208) 510-5657 or fill out our online form for outstanding service from start to finish.