Free Estimates
One-Year Parts and Labor Warranty
(208) 510-5657
Plumbing Fixtures Installations, Repairs and Replacements
Pristine Plumbing and Construction offers the installation and repair of plumbing fixtures in Nampa, ID and surrounding areas. If you have a broken fixture or want to upgrade all your fixtures in the kitchen or bathroom, we offer quality products and superior fixture installation and repair services. We offer free estimates for fixture installation and discounts for military veterans, seniors and first responders.
If you need help with your fixtures, call (208) 510-5657 to schedule your installation or repair. We offer a one-year warranty on all parts and labor. Call for additional warranty information.

"Pristine Plumbing came out same day and installed a new water heater for us. They showed up on time, were professional and knowledgeable about water heaters. They tested our water for hardness level and recommended a water softener. I would recommend using them in the future to friends and family."
– Cory B via Google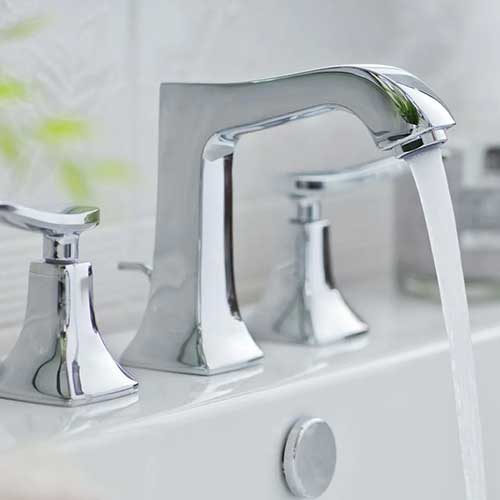 Repair or Replace Your Plumbing Fixtures?
The plumbing fixtures in the average home are used every day by all members of the household. We take our fixtures for granted and expect them to work properly until something goes wrong. When you have a drippy faucet, cracked sink, or a problem with the shower, it may be necessary to repair or replace the fixture. Although plumbing fixtures can last for decades, there are times when it is better to replace your fixtures.
Replace your plumbing fixtures when:
There is a crack in the toilet.
Parts are outdated.
Corrosion due to age or hard water.
You notice mold growth.
A fixture has recurring problems.
There is visible rust or discoloration.
If you have a plumbing fixture that is not working right, it is best to call for fixture repair service as soon as possible. Minor plumbing issues, like a leaky faucet, may not seem as urgent as a leaking pipe but it is better to have a plumber take a look. Small problems with a faucet, sink, or toilet can become bigger problems when you wait to call for service. Contact Pristine Plumbing and Construction right away! Ask about our senior, first responder and veteran discount.
Replacement Kitchen and Bath Fixtures Available
You don't have to wait for a problem to replace a plumbing fixture. If you want to freshen up the décor in your kitchen or bathroom, a relatively inexpensive change is to replace all of your fixtures. Brand-new plumbing fixtures can completely change the look of a kitchen or bathroom for less than the cost of a complete remodel. Newer fixtures offer more modern styles and designs, durable construction and water conservation features.
Bathroom sinks
Bathtubs
Faucets
Kitchen sinks
Showerheads
Showers
Toilets
If you aren't sure whether your problematic plumbing fixture needs to be repaired or replaced, our experienced plumbers can inspect the fixture. After evaluating the fixture, we can discuss the options for fixture repair or replacement and recommend the most efficient and cost-effective solution for your problem. We use quality products from brand names such as Moen.
Get Help With Your Plumbing Fixtures
When a fixture isn't working or you need something new installed, call on Pristine Plumbing and Construction. If you want to upgrade for better performance or aesthetic reasons, we can help you consider the options and provide a free estimate for your installation. Our licensed, bonded and insured plumbers prioritize customer service and treat your home with the care it deserves.
Please contact Pristine Plumbing and Construction via our online form for more information about our services for plumbing fixtures. Your satisfaction is guaranteed!