Free Estimates
One-Year Parts and Labor Warranty
(208) 510-5657
Licensed, Bonded and Insured Local Plumbers
When you need a reliable plumber for repairs in Nampa, ID and the surrounding areas, you can count on the pros at Pristine Plumbing and Construction. We have more than 12 years of plumbing experience and the technical skill needed to get to the root of any issue. Our plumbing repair technicians offer a range of options to restore your plumbing system.
If you have a problem with your plumbing, call (208) 510-5657 to schedule your plumbing repairs. Emergency and after-hours repair services are always available. With Pristine Plumbing and Construction, your satisfaction is guaranteed every time!

"I am very happy with the service I received from Pristine Plumbing! They responded to my inquiry right away and fit me into their schedule the next day. I had a really tough sink removal due to me putting epoxy on my countertop, but Kyle took extra time and effort to get it out. He replaced my dishwasher and garbage disposal as well. His rates were fair and reasonable, and he also helped me troubleshoot my hot water heater at no extra charge."
– Melody C via Google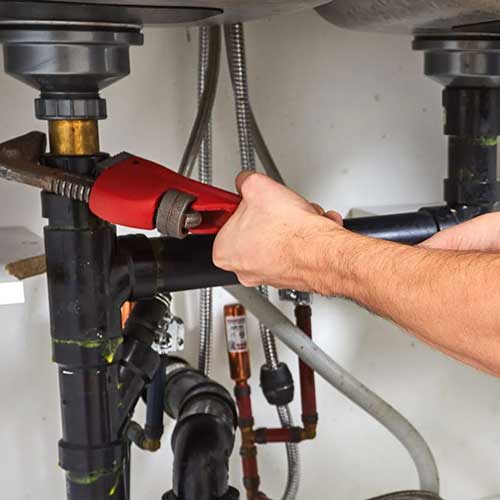 Expert Plumbing Repairs at Competitive Prices
Your home's plumbing system delivers clean water to all your plumbing fixtures and appliances and carries away wastewater. All components of the plumbing system need to be functioning for a safe, reliable source of water and drainage. A sudden plumbing problem can disrupt your routine or cause damage to your home.
Call for plumbing repairs when you have:
No water – If you have no water when you turn on a faucet, don't wait to call for plumbing repair. A complete loss of water can be caused by a major leak, frozen pipes or a problem with the main water line.
No hot water – A loss of hot water can indicate a problem with heating elements, thermostats or igniters, which may require water heater repair or replacement.
Low water pressure – Low water pressure from a single fixture indicates a problem with that fixture. However, low water pressure throughout the house can signal a broken underground pipe or main water line.
Clogged drains – A clog in one drain is usually caused by something blocking the drainpipe. Clogged drains throughout the house are often caused by a blockage or damage to the main sewer line.
A leak – Plumbing leaks can cause extensive water damage to your home. Call Pristine Plumbing and Construction as soon as you notice signs of a leak.
Broken fixtures – A leaky or broken plumbing fixture wastes water and makes the fixture unusable. Depending on the problem, the fixture may need to be repaired or replaced.
A sewage odor – If you notice a sewage odor in the house or in the yard, there may be a problem with your main sewer line.
If you have noticed any of these signs or another problem with your plumbing system, don't wait to call for plumbing repairs. A small leak, clog or strange odor can seem fairly minor, but these problems have a way of suddenly becoming more serious. For example, a leak can result in a burst pipe, or a clog can lead to an overflowing sink or toilet.
Call Pristine Plumbing and Construction at (208) 295-5534 right away for all your plumbing repair needs. In the event of an emergency, we can be there within an hour.
How to Plunge a Toilet
Are you dealing with a clogged toilet? There are a few ways to clear it up — one of the simplest methods is by plunging it. It can be a little difficult, especially if you've never done it before and you're already slightly panicked because your toilet is clogged. Don't worry, we'll explain it below! Note: this method only works if your toilet is not clogged by a hard object such as a child's toy.
How do you plunge a toilet? Take the steps below:
Insert the plunger into your toilet bowl. Make sure that the bottom of the plunger is covering the hole completely and that the plunger is submerged in the water. If there is not enough water in the bowl, add some from the bathroom sink. The water will allow you to push and pull water through the opening instead of air.
Pump the plunger over the hole. Push down slowly at first because your first plunge will push air into the bowl. When you are ready, quickly pull up the plunger so that the clog is loosened. Continue plunging intensely until the water starts to drain. Be patient — it may take 20 tries before the toilet unclogs. It might not also work right away, but
Flush the toilet to check how the drainage is doing. If it drains, but a clog continues to block flow down the drain, leave the plunger in the bowl. Let it fill up with water up to where it is normally after you usually flush it, and try plunging again. You may need to do this several times.
When the toilet is unclogged, flush your toilet 2-4 times. Do this to ensure that the blockage is moved through your sewer system.
Plunging can take a while, so be patient — it may take 20 tries before the toilet unclogs! However, if you tried these steps and other DIY methods, but your toilet continues to be clogged, do not hesitate to reach out to our experienced plumbers at Pristine Plumbing and Construction. Our technicians have years of experience and have served the surrounding communities successfully. Contact us today!
Call for Prompt Plumbing Repairs in the Nampa, ID Area
At Pristine Plumbing and Construction, our plumbers offer a range of solutions and quality plumbing repairs. After we inspect your plumbing system to locate the root cause of the trouble, we provide you with options for restoring your plumbing. Our technicians are neat and clean, wearing shoe covers and using drop cloths to ensure that your home remains clean during repairs.
We also work with insurance companies and can provide you with plumber assessment forms. Fill out our online form to schedule our plumbing repair services.