Free Estimates
One-Year Parts and Labor Warranty
(208) 510-5657
Plumbing Pipe Installation and Replacement
Your plumbing's pipes are important for bringing clean water into your house and carrying out wastewater. When you need plumbing pipes installed or replaced, you need skilled, licensed plumbers to get the job done right. At Pristine Plumbing and Construction, we offer piping and repiping in the Nampa, ID area to provide the ideal solution for every need.
Give us a call today at (208) 510-5657 for a free estimate for our piping and repiping services. We bring over a dozen years of plumbing experience to every project.

"Highly recommend!! Kyle came and installed new sprinklers and sod in my backyard. He was fast, relatable, and tidy!! His work is impeccable. Pristine Plumbing is definitely my new go to for all my household needs!!!"
– Nicole K via Facebook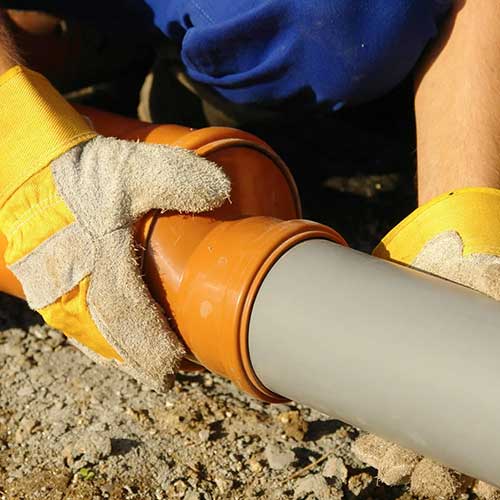 Timely Piping and Repiping Solutions
Your property requires plumbing pipes in the right places to keep your home safe and prevent damage caused by faulty or failed plumbing pipes. If you are adding a new fixture or appliance or changing the layout of the kitchen or bathroom during a remodel, you may need new plumbing pipes installed or the existing pipes rerouted.
Plumbing pipes weren't meant to last forever and all pipes wear out sooner or later. The pipes can wear out and become corroded with age. The length of time that plumbing pipes are expected to last can vary widely, depending on the pipe material. Some materials do last longer than others, but all pipes will need to be replaced eventually, regardless of the material.
Signs it's time to replace the plumbing include:
Leaks – Any plumbing system can spring the occasional leak. If you have multiple leaks in different areas of the house, it can signal a larger problem with the plumbing system.
Inferior pipe materials – A variety of different pipe materials have been used over the years. Some materials wear out faster than others.
Low water pressure – If you have low water pressure throughout the house, it can mean your older pipes are becoming clogged with rust and corrosion.
Recurring drain issues – Similar to low water pressure, recurring drain problems can be caused by the degradation of the pipe material, which causes clogs in the drain pipes.
Discolored water – When there is rust in just the hot water, the water heater is the likely culprit. However, if you have rust-colored hot and cold water, the problem is in the pipes. This is a sign that the pipe walls are corroded.
Piping and repiping is a big job. The plumbing contractor you choose can make a big difference in the outcome of the job. Always hire experienced plumbers to avoid the problems that can happen from faulty pipe installation, such as mold growth, plumbing leaks, or a burst pipe.
Whole house repiping involves replacing all the water and drain pipes in your house. This is more complicated than installing a plumbing system during new construction because most of your pipes are under the floors, behind walls, and in the ceiling. They are less accessible now than when the house was built since the pipes are installed before the drywall and flooring.
Get a Free Estimate Today
If you need new pipes installed or whole house repiping, Pristine Plumbing and Construction has fully trained, licensed plumbers to handle the job. We can inspect your plumbing system to determine if the pipes need to be replaced and the scope of the work that is needed. Our plumbers will give you options and provide a free estimate for your pipe installation or whole house repipe.
Contact the pros at Pristine Plumbing and Construction through our online form for more information and to arrange an appointment for piping or repiping services. Estimates are always provided the same day.